US expert visits Oakdene House
Dr. Bo Bernhard, one of the world's leading figures in the study of gambling addiction and the executive director of the University of Nevada Las Vegas's International Gaming Institute was recently in Sydney as part of a two-week trade mission to Australia.
The UNLV and the University of Sydney signed an agreement to collaborate on interactive gambling research, including the study of addiction. The partnership between the two universities will help to ensure that those who seek to do harm to the interactive gaming industry are better prevented and that those who might be experiencing an addiction to this entertainment are better identified and assisted."
Dr Bernhard took some time during his trip visit Oakdene House and to speak with some of the attendees about some of the myths associated with gambling addiction. Dr Bernhard gave an update on some of the latest developments into the treatment and management of addictions as well as answering a number of questions from our attendees.

Memories can be made when gathered around the table
Oakdene House Foundation was established to assist sufferers in dealing with the debilitating consequences of addiction, including problem gambling and alcoholism. In addition to our variety of services offered, including; the Life Choices program, out-patient counselling and access to 12 Step meetings, we also host our popular 'Serenity BBQ's' a number of times during the year.
Taking place in our relaxing outdoor courtyard area, many of our Oakdene 'friend's' gather socially to meet new people, and share a meal together.
"The BBQ's are a great way for people attending the centre to mix with others in a situation that is a lot more relaxed than in our meetings or counselling sessions" says Mark Henson the Oakdene House Education Outreach and Gambling Counsellor. "The benefits of mixing with people dealing with different (but similar) issues have been quite positive".
The Oakdene House Serenity BBQ's take place at different times of the year, and participants are encouraged to bring a plate of something along to share with the other guests.
For more information, please contact any of our Oakdene House staff by calling (02) 8717 0999 or email us at admin@oakdenehouse.org.au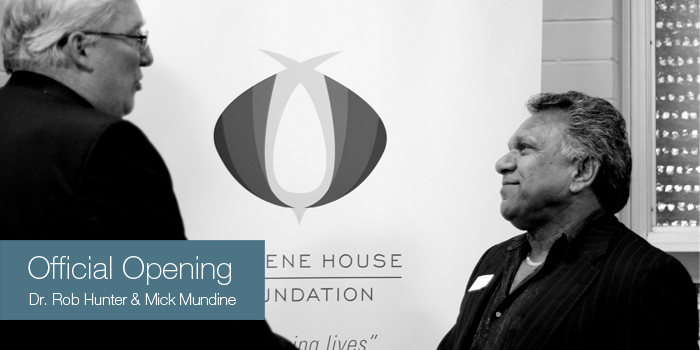 Oakdene House Official Opening
One of the world's leading experts on the issue of problem gaming, Dr Rob Hunter, founder/director of the highly successful Las Vegas Problem Gambling Centre recently visited Australia to official opening of the Oakdene House Foundation.
In addition to working with the Oakdene staff, Dr Hunter delivered an address to both the media and a number of key figures in the addiction treatment field. Officially opening the centre, Dr Hunter noted that"the eyes of the world are looking to what happens here in Sydney".
Further support of this was illustrated when Dr Hunter presented the audience with an official proclamation from Mayor Carolyn Goodman and the Las Vegas City Council, honouring Oakdene House and declaring April 18, 2012 to officially be Oakdene House day in the City of Las Vegas.
Dr Hunter was joined at the event by Michael (Mick) Mundine Sr in being the inaugural patrons of the Foundation. Mick Mundine, is the Chief Executive Officer of the Redfern based Aboriginal Housing Company and has had a long involvement in the struggle for the betterment of Aboriginal people in Australia. Particularly in Redfern where issues of housing and health have been championed by Mick along with his passionate stand against drugs and alcohol.
With twenty five years specialising in gambling addiction, Dr Hunter has pioneered methods to help gamblers overcome their addiction. The Oakdene House team have benefitted from his ground breaking thinking on addressing all aspects of the problem gambler's suffering, from the belief that many gamble as a method to anaesthetise themselves and escape work and family worries.
Having setting up national programs in Iceland and Canada along with current work in Korea, Russia, China and Japan, Dr Hunter states that much of the important work is now being done outside the US and that, surprisingly, "Australia is in a lead role relative to moderating potential harm of gambling". "The team at Oakdene House are well placed to continue this work" in addition to counseling and treatment services, Oakdene also supports meetings for those in recovery, along with educational seminars that can assist with the identification of harmful gaming habits and provide direction and support to help an individual overcome these.